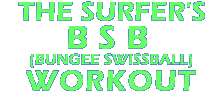 SECTION TWO:

PADDLEOUT
2b. TABLETOP POSITION. REVERSE PADDLE. 25 REPS

THE POP-UP
2b. KNEES ON BALL, DRAW KNEES TO OPPOSITE SHOULDER WITH PUSH-UP IN BETWEEN. 10 REPS

SURFING
2b. SINGLE LEG LUNGE WITH ONE ARM ROW. 20 REPS EACH LEG.

SURFING (THE GLIDE)
2b. BALANCE WITH BOTH KNEES ON BALL. ALTERNATE DROPPING BUTT TO OPPOSITE HEEL. 30 SECONDS.

THE CORE
2b. KNEES ON BALL, ROTATE BUNGEE TO OPPOSITE SIDE. 15 REPS EACH SIDE. THEN BACK EXTENSIONS 15 REPS HOLDING 3 SECONDS EACH.