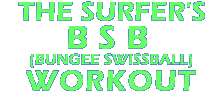 Complete all three sections
SECTION ONE:

THE PADDLEOUT
1A. TABLE TOP POSITION, HEAD AND SHOULDERS ON BALL HIPS ELEVATED AND PARALLEL TO FLOOR. START HANDS OVERHEAD DRAWING BUNGEE TO THIGHS. DO EITHER BILATERAL OR UNILATERAL MOVEMENTS. 25 REPS

THE POP-UP
1a. KNEES ON BALL, HANDS ON FLOOR. ALTERNATE ONE PUSH WITH ONE CRUNCH. 10 REPS

SURFING
1a. SINGLE LEG LUNGE. 25 REPS PER LEG.

SURFING (THE GLIDE)
1a. HANDS ANDS KNEES BALANCE ON BALL. HOLD FOR 30 SECONDS.

THE CORE
1a. PULL AND CRUNCH, 25 REPS, AND THEN LEG EXTENTIONS 15 REPS. HOLD TOP POSTION FOR 3 SECONDS.